"ARTIFICIAL INTELLIGENCE AND ETHICS"
---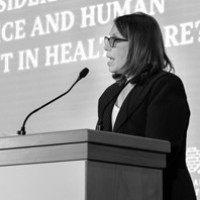 Chair
Robin Smith
Founder
STEM for Life Foundation, USA
Dr. Robin L. Smith, age 54, is a business leader, entrepreneur, medical doctor and philanthropist and is uniquely positioned to assist public companies and health care systems successfully advance in the rapidly evolving health care industry. She received her BA from Yale, MD from the Yale School of Medicine and an MBA from the Wharton School of Business and completed the Stanford University Directors Program. Dr. Smith is a trailblazer in the fields of regenerative medicine and predictive analytics and has focused on turnarounds, M&A and disruptive innovations driving interest and growth. In 2005, she was recruited to turn around Phase 3 Medical a bulletin board company with a non- sustainable plan. She became chairman of the board and chief executive officer in 2006 and created the NeoStem family of companies (NASDAQ: NBS) where she pioneered the company's innovative business model: combining proprietary cell therapy development with successful contract development and manufacturing organization In 2007, Dr. Smith founded the Stem for Life Foundation (SFLF), a nonpartisan 501(c)3 educational organization devoted to fostering global awareness of the potential for regenerative medicine to treat and cure a range of deadly diseases and debilitating medical conditions, as opposed to merely treating their symptoms. In 2016, under Dr. Smith's leadership the foundation launched Unite To Cure, a global health movement that builds bridges among doctors, health systems, patients, business leaders, regulators, investors, politicians, philanthropists, and leaders of faith to collaborate and speed the development of cures, impact human health and save lives. The April 2018 global Unite To Cure event held at the Vatican, reached over 2.5 billion people standing alongside the World Economic Forum in Davos, Switzerland Dr. Smith has coauthored two books: Cells Are the New Cure (2017) and The Healing Cell: How the Greatest Revolution in Medical History Is Changing Your Life (2013). She maintained a regular column for the Huffington Post for six years.
---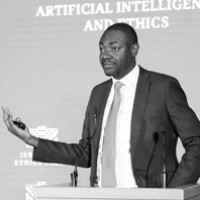 Emmanuel Fombu
Medical Futurist
USA
Dr Fombu is an internationally recognized authority on the convergence of digital technologies and healthcare. He is an award winning author, physician, pharmaceutical executive and healthcare futurist with over 15 years combined experience in clinical medicine, drug development, digital medicine, pragmatic trials and product lifecycle management strategy in the healthcare industry and private equity.
His current focus is on how digital technologies can be leveraged to better measure healthcare related product's real world effectiveness and value in partnership with digital health startups, payers and providers.
In addition to his book, The Future of Healthcare: Human and Machine Partnering for Better Outcomes, Dr. Fombu has authored multiple research papers and abstracts in renowned peer reviewed journals. He is a champion and advocate for value based healthcare, personalized medicine, nanotechnology, blockchain, big data, artificial intelligence, machine learning and digital medicine. He serves as an external advisory board member at the Massachusetts Institute of Technology's MIT.nano project.
Dr Fombu completed his clinical training at Emory- Crawford Long Hospital and holds an MBA from both Cornell University's Johnson School of Business and Queen's University's Smith School of Business. He lives in New York City.
---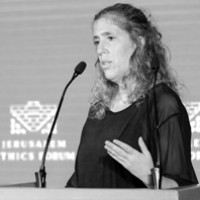 Michal Rosen-Zvi
Director of Health Informatics
IBM, Israel
Dr. Michal Rosen-Zvi leads a worldwide team of researchers, expert in AI applied to health data and a local team who focuses on deep learning applied to medical imaging, machine learning and causal inference technologies applied to patients data. She joined IBM Research in 2005 and has since led various projects in the area of machine learning and healthcare; Therese are multidisciplinary projects where physicians, data scientists, AI experts and experts from Pharmaceutical companies join forces to analyze post launch patients data. Aside from teaching in various academic forums including courses at Tel-Aviv University and the Hebrew University, Michal has published more than 40 peer-reviewed papers, and serves as a Senior Program Committee member and reviewer at leading machine learning, health informatics, and bioinformatics conferences and journals. Nowadays she is also a visiting professor at the Faculty of Medicine at the Hebrew University. Michal holds a PhD in computational physics and completed her postdoctoral studies at UC Berkeley, UC Irvine, and the Hebrew University in the area of Machine Learning. She serves at various boards such as the committees such as the Israeli national digital health committee and the Impact Advisory Committee of the 8400 health network.
---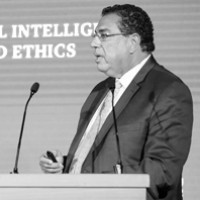 Ayman Salem
Neurosurgeon
USA
Neurosurgical residency training: University of New Mexico, Albuquerque, NM.
Movement Disorders Fellowship: Loma Linda University, Loma Linda, CA.
Complex Spine Fellowship: Arrowhead Regional Medical Center, Colton, CA.
Research interests: AI and Gamification of Digital Health, Spine Biomechanics, Functional Brain Disorders, and Aging.
Patents and designs:
• 14 USA provisional patents ( with 4 fully granted USA patents ) relevant to ikioo and ikioor digital health platform employing AI and Blockchain.
• Inter-spinous Fusion (Benefix) system design and posterior cervical fusion systems design.
---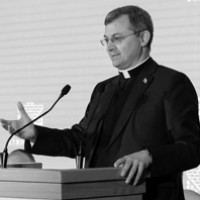 Msgr. Tomasz Trafny
Head of Science and Faith Department
Pontifical Council for Culture, Vatican
Msgr. Tomasz Trafny – priest of the Archdiocese of Lublin and Official of the Pontifical Council for Culture (Vatican City State). Born in Darłowo (Poland) in 1970. He completed his studies in philosophy and theology at the Catholic University of Lublin. He continued his post-graduate studies in philosophy at the same university and afterwards at the Pontifical Lateran University in Rome. From 2006 he serves as the Head of Science and Faith Department at the Pontifical Council for Culture (Vatican City State). Between 2006 and 2012, he served also as the Executive Director of STOQ Project (Science, Theology and Ontological Quest) and Director of the STOQ Project Research Series. From 2013 he serves as the Secretary of the Scientific Committee of the Science and Faith – STOQ Foundation, and from 2014 as the General Secretary of its Board of Trustees. From 2014 to 2016 he served as a Member of the Advisory Board of the John Templeton Foundation. He is also Deputy Commissioner General ad omnia of the Holy See for Expo 2019 in Beijing and Expo 2020 in Dubai. His interests include philosophy of science, philosophy of religion, epistemology, philosophical anthropology in the context of contemporary science (biology, regenerative medicine, neurocognitive sciences, etc.), topics related to the wide-ranging dialogue between science and religion and their impact on cultures as well as environmental and climate change issues. With Armand Puig i Tárrech he is co-editor of the volume: God and world. Theology of creation from scientific and ecumenical standpoints, (LEV 2012), and together with Dr. Robin Smith and Dr. Max Gomez he is coauthor of the book: The Healing Cell: How the Greatest Revolution in Medical History is Changing Your Life, (Center Street 2013).
---