HEALTH POLICY AND FINANCING INNOVATION: ETHICAL CONSIDERATIONS, COST AND THE ROLE OF THE PATIENT
---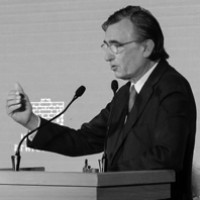 Chair
Prof. Philippe Douste-Blazy
United Nations Official
France
Philippe Douste-Blazy is a United Nations official and former French politician. He has been Under-Secretary-General, Special Adviser on Innovative Financing for Development in the United Nations since 2008 and chairman of UNITAID since 2006. He previously served as French Minister for Health (1993–1995 and 2004–2005), Minister of Culture (1995–1997) and as Foreign Minister in the cabinet of Dominique de Villepin (2005–2007). He was mayor of Lourdes 1989–2000 and mayor of Toulouse 2001–2004. Originally a member of the Centre of Social Democrats (CDS), the Christian Democrat component of the Union for French Democracy (UDF) party, he later joined the Union for a Popular Movement. A cardiologist by training, he became Professor at Toulouse Sciences University in 1988. He is also a Lecturer at the University Paris VII and has been Professor at Harvard Medical School.
---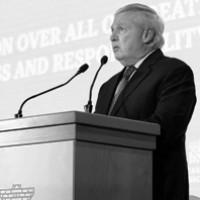 Andrew C. von Eschenbach
President
Samaritan Health Initiatives, Inc., USA
Andrew C. von Eschenbach, M.D. currently serves as President of Samaritan Health Initiatives, Inc. and as an Adjunct Professor at University of Texas MD Anderson Cancer Center. From September of 2005 to January 2009 he served as Commissioner of Food and Drugs where he championed an agenda to modernize the FDA by process improvement of the regulatory pathway for drugs and medical devices and by fostering creative projects, including FDA's Critical Path Initiative (designed to bring modern tools of science to the product development process); work plans like the FDA's Food Protection Plan; and most especially the nurturing of the workforce through initiatives, such as an Agency-wide fellowship program and development of a new integrated campus for the Agency in White Oak, Maryland. Under his leadership, the FDA experienced dramatic increases in resources enabling implementation of many new programs designed to strengthen the FDA in its mission to protect and promote public health. He has emphasized FDA's role in working with external partners to assure quality throughout the entire life cycle of the products it regulates.
Dr. von Eschenbach joined FDA after serving for four years as Director of the National Cancer Institute (NCI) at the National Institutes of Health where he set an ambitious goal to eliminate the suffering and death due to cancer by rapid acceleration and integration of the discovery-development-delivery continuum. While at NCI, he committed resources to ensure the application to oncology of nanotechnology, genomics, proteomics, bioinformatics, and other emerging technologies. At the time of his appointment by President Bush to serve as Director of NCI, he was President-Elect of the American Cancer Society. Dr. von Eschenbach entered government service after an outstanding career over three decades as a physician, surgeon, oncologist and executive that included numerous leadership roles from Chairman of the Department of Urologic Oncology to Executive Vice President and Chief Academic at the University of Texas M.D. Anderson Cancer Center in Houston, an institution world renowned for the magnitude and excellence of its clinical and research cancer programs. An internationally renowned cancer specialist and author of more than 300 scientific articles and studies, Dr. von Eschenbach has served in numerous leadership roles, including serving as one of the founding members of the National Dialogue on Cancer. He has received numerous professional awards and honors. In 2006, Dr. von Eschenbach was named one of Time magazine's "100 most influential people to shape the world," and in both 2007 and 2008, he was selected as one of the Modern Healthcare/Modern Physician's "50 Most Powerful Physician Executives in Healthcare."
Dr. von Eschenbach earned a B.S. from St. Joseph's University in his native Philadelphia and his medical degree from Georgetown University School of Medicine in Washington, D.C. He served as a Lt. Commander in the U.S. Navy Medical Corps. After completing a residency in urologic surgery at Pennsylvania Hospital in Philadelphia, he was an instructor in urology at the University of Pennsylvania School of Medicine. He completed a Fellowship in Urologic Oncology at the University of Texas M.D. Anderson Cancer Center.
He has been married to his childhood sweetheart, Madelyn, for over 40 years, and they are proud parents of four children and elated grandparents of seven.
---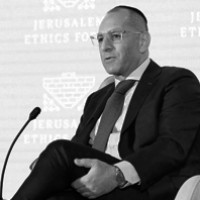 Gilles Gade
Founder, President and CEO
Cross River, USA
Gilles Gade is Founder, President and CEO of Cross River, having served as Chairman for the company since its inception in 2008. He graduated from the MBA Institute IMIP (Groupe IPESUP) in Paris, with a Masters of Science in International Management. In 1990 he began his career at Citicorp Venture Capital in La Défense, Paris. Later, he immigrated to the Unived States and served as CFO of First Meridian Mortgage, and was Co-Founder and Managing Director of Chela Technology Partners. In addition, he was Technology Investment Banker at Barclays Capital, and FIG Investment Banker at Bear Stearns.
---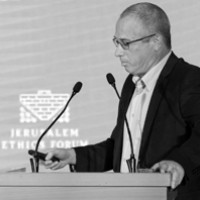 Mordechai Muszkat
Head of the Department of Medicine
Hadassah University Hospital at Mt Scopus, Israel
Prof Mordechai Muszkat, MD, is the Head of the Department of Medicine in Hadassah University Hospital at Mt Scopus, Jerusalem, Israel.
Prof Muszkat received his MD degree from the Hebrew University, and completed Internal Medicine training at Hadassah Ein Kerem, and Clinical Pharmacology training at Hadassah Ein Kerem and at Vanderbilt University School of Medicine, TN, USA.
Prof Muszkat studies genetic determinants of drug response, and medications- associated injury in special populations in the Internal Medicine department.
In addition to research in Clinical Pharmacology, Prof Muszkat is extensively involved in Medical Education, including teaching bioethics to medical students and residents in the Department of Medicine.
---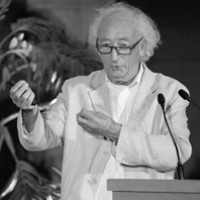 Jean-Daniel Rainhorn
Honorary Professor in International Health and Humanitarian Action
Geneva University/IHEID, Switzerland
Jean-Daniel Rainhorn is a physician and Honorary Professor in International Health and Humanitarian Action at Geneva University/IHEID in Switzerland. He has been Invited Professor in several universities including the Medical Faculty of Tel Aviv University, the Université Libre de Bruxelles, Hanoi University in Vietnam and Senghor University in Alexandria. In addition he held the chair of inequalities in health at the College of Global Studies in Paris where he was heading a seminar on "The new technologies between utopia and dystopia". He is author of several books including "New cannibal markets. Globalization and commodification of the Human Body" published in 2015.
---