ETHICAL CONSIDERATIONS AROUND PATIENT CHOICE AND HUMAN ENHANCEMENT IN HEALTHCARE?
---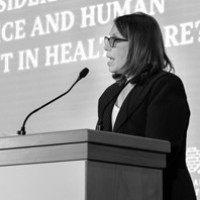 Chair
Robin Smith
Founder
STEM for Life Foundation, USA
Dr. Robin L. Smith, age 54, is a business leader, entrepreneur, medical doctor and philanthropist and is uniquely positioned to assist public companies and health care systems successfully advance in the rapidly evolving health care industry. She received her BA from Yale, MD from the Yale School of Medicine and an MBA from the Wharton School of Business and completed the Stanford University Directors Program. Dr. Smith is a trailblazer in the fields of regenerative medicine and predictive analytics and has focused on turnarounds, M&A and disruptive innovations driving interest and growth. In 2005, she was recruited to turn around Phase 3 Medical a bulletin board company with a non- sustainable plan. She became chairman of the board and chief executive officer in 2006 and created the NeoStem family of companies (NASDAQ: NBS) where she pioneered the company's innovative business model: combining proprietary cell therapy development with successful contract development and manufacturing organization In 2007, Dr. Smith founded the Stem for Life Foundation (SFLF), a nonpartisan 501(c)3 educational organization devoted to fostering global awareness of the potential for regenerative medicine to treat and cure a range of deadly diseases and debilitating medical conditions, as opposed to merely treating their symptoms. In 2016, under Dr. Smith's leadership the foundation launched Unite To Cure, a global health movement that builds bridges among doctors, health systems, patients, business leaders, regulators, investors, politicians, philanthropists, and leaders of faith to collaborate and speed the development of cures, impact human health and save lives. The April 2018 global Unite To Cure event held at the Vatican, reached over 2.5 billion people standing alongside the World Economic Forum in Davos, Switzerland Dr. Smith has coauthored two books: Cells Are the New Cure (2017) and The Healing Cell: How the Greatest Revolution in Medical History Is Changing Your Life (2013). She maintained a regular column for the Huffington Post for six years.
---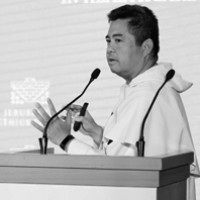 Rev. Nicanor Pier Giorgio Austriaco
Professor of Biology and of Theology
Providence College in Providence, Rhode Island
Rev. Nicanor Austriaco O.P., Ph.D., S.T.D. completed his Bachelor's Degree (B.S.E.) in Bioengineering, summa cum laude, at the University of Pennsylvania, and then earned his Ph.D. in Biology from M.I.T. in the laboratory of Professor Leonard Guarente, where he was a fellow of the Howard Hughes Medical Institute (HHMI). He was ordained a priest in the Order of Preachers in May of 2004. He completed his Pontifical License in Sacred Theology (S.T.L.) in Moral Theology, summa cum laude, at the Dominican House of Studies in Washington, DC, in 2005, and a Pontifical Doctorate in Sacred Theology (S.T.D.), magna cum laude, at the University of Fribourg in Switzerland, in 2015.
Fr. Austriaco currently serves as Professor of Biology and of Theology at Providence College in Providence, Rhode Island, and Director of ThomisticEvolution.org.  He is also a research fellow at the Center for Religious Studies and Ethics at the University of Santo Tomas in Manila, Philippines. His NIH-funded laboratory at Providence College is investigating the genetics of programmed cell death using the yeasts, Saccharomyces cerevisiae and Candida albicans, as model organisms. Papers describing his research have been published in PLoS ONE, FEMS Yeast Research, Microbial Cell, Cell, the Journal of Cell Biology, and the Proceedings of the National Academy of Sciences USA, among others. In philosophy and theology, his essays have been published in the National Catholic Bioethics Quarterly, Theological Studies, Nova et Vetera, The Thomist, Science and Theology, and the Linacre Quarterly. His first book, Biomedicine and Beatitude: An Introduction to Catholic Bioethics, was published by the Catholic University of America Press in 2011. It was recognized as a 2012 Choice outstanding academic title by the Association of College and Research Libraries.  He is here todiscuss the Ethical consideration around Gene Editing.
---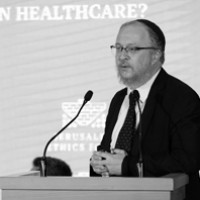 Benjamin David
Medical Ethics Doctor
Israel
Benjamin David is a Medical ethics doctor who is a Graduate of Paris V Descartes University. He is a specialist rabbi on medical ethics issues in the field of Obstetrics, Genetics and Fertility Gynecology and has been working for twenty years at the Pouah Institute of Jerusalem, which is an organization that addresses ethical questions in the field and supports couples during fertility treatments. He also teaches medical ethics on other academic institutions such as the Tal Institute in Jerusalem in the Nursing School Department and in the Master's Degree for Teachers in Jewish Studies  program at Orot Israel in Rehovot.
He participated in the publication of several articles in academic journals and recitals of articles in the fields of medical ethics and is  a member of the Israeli Federation of Fertility Research, a member of the Ethics Commission of the Kfar Shaul Psychiatric Hospital in Jerusalem and the Helsinki Commission on Medical Research of IDF Israel's Army. He will share with is the implications of Genetic testing before marriage.
---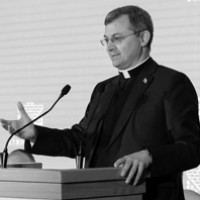 Msrg. Tomasz Trafny
Official of the Pontifical Council for Culture
Vatican
Msgr. Tomasz Trafny – priest of the Archdiocese of Lublin and Official of the Pontifical Council for Culture (Vatican City State). Born in Darłowo (Poland) in 1970. He completed his studies in philosophy and theology at the Catholic University of Lublin. He continued his post-graduate studies in philosophy at the same university and afterwards at the Pontifical Lateran University in Rome. From 2006 he serves as the Head of Science and Faith Department at the Pontifical Council for Culture (Vatican City State). Between 2006 and 2012, he served also as the Executive Director of STOQ Project (Science, Theology and Ontological Quest) and Director of the STOQ Project Research Series. From 2013 he serves as the Secretary of the Scientific Committee of the Science and Faith – STOQ Foundation, and from 2014 as the General Secretary of its Board of Trustees. From 2014 to 2016 he served as a Member of the Advisory Board of the John Templeton Foundation. He is also Deputy Commissioner General ad omnia of the Holy See for Expo 2019 in Beijing and Expo 2020 in Dubai. His interests include philosophy of science, philosophy of religion, epistemology, philosophical anthropology in the context of contemporary science (biology, regenerative medicine, neurocognitive sciences, etc.), topics related to the wide-ranging dialogue between science and religion and their impact on cultures as well as environmental and climate change issues. With Armand Puig i Tárrech he is co-editor of the volume: God and world. Theology of creation from scientific and ecumenical standpoints, (LEV 2012), and together with Dr. Robin Smith and Dr. Max Gomez he is coauthor of the book: The Healing Cell: How the Greatest Revolution in Medical History is Changing Your Life, (Center Street 2013). He will discuss the Risk and Opportunity we have as technology is giving us the ability to experience Human Enhancement.
---